Evolution of the Esports Industry
Here's one of the most fascinating histories to read about. Gamers and non-gamers would be equally interested to know how a home video game business turned into a billion-dollar esports industry over the last few decades. This history goes back to our childhood, an important part of the memories of many generations, creating huge revenues that stunned the world. With record speed, esports caught the attention of global markets and companies and made first-class stars compete with the most famous singers and actors, and provided us with adventurous, imaginary worlds that simulate our reality.
Many esports companies crossed boundaries while introducing the latest gaming technology in the hands of gamers. One such futuristic technology being the telo GameZ Lenovo Legion gaming phone. Looking ahead of market trends, telo GameZ has launched the most technologically advanced smartphone, specially designed for gamers who like to play on the go. Its revolutionary architecture has the world's first customized horizontal UI, that allows the players to play in landscape mode. Never miss your moment of glory, with the first horizontal, front-facing camera that you can activate in 0.5 seconds. It's a live broadcast room you can take with you anywhere!
Now get ready for a beautiful journey through time with esports history dating all the way back to the seventies.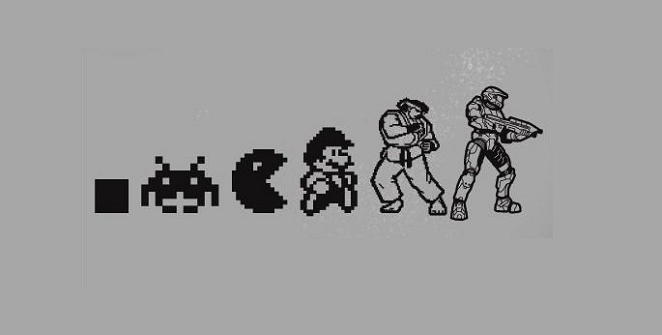 Esports in the '70s
One of the most important features of this period is the spread of arcade games which were played on electronic machines located in gaming stores and markets and worked using coins.
We can say that video game consoles lived their early childhood in arcade machines. These games provided unique experiences for players, entering venues that mixed bold colorful lighting with sounds of games getting louder each second. These venues were teeming with players of all ages, choosing among many enticing options for the most popular games. It became an ideal place for young players to gather with their peers on weekends and summer holidays.
In 1973, the first electronic games championship was organized at Stanford University for Space War – created in the 1960s – where participating students competed to win a one-year subscription to Rolling Stone magazine.
The 1970s games were characterized by their simplicity and their reliance on text technology. Space Invader and Pong are one of the most famous games of that phase. Pong was released in the early '70s by Atari, an electronic table tennis game that gained great popularity and led many Atari competitors to imitate it. Space Invader also tops the list, as one of the oldest digital shooter games designed by Japanese developer Tomohiro Nishikado.
Compete and win the biggest prizes in our upcoming tournaments right here
Esports in the '80s
The 1980s saw a technological and creative shift in the esports industry. Games became somewhat complex, having a wider narrative, and advanced gameplay levels, thanks to the use of 2D technologies that provided innovative visual styles not present in the '70s. New devices like Nintendo and Sega Genesis conquered all homes and captivated the hearts of players, young and old. Nintendo was one of the most beautiful gifts you could give to any player of the '80s!
Pac-Man topped the gaming scene around the world, followed quickly by Super Mario. Everyone loved the little red hat plumber who lived in the Mushroom Kingdom trying to fight bad guys and prevent Princess Peach from being kidnapped.
One major highlight of the '80s was the release of Tetris on Game Boy. Distinguished by its simple design, Tetris enabled users to enjoy 20 hours of playing with only a few batteries. Many portable gaming systems that came after Game Boy couldn't compete or achieve the same popularity.
Esports in the '90s
The esports industry continued to develop rapidly in the 1990s. New features in electronic games were introduced using advanced technologies that mix 2D and 3D graphics, professional music, in addition to the emergence of PC and mobile games.
Read: Without Ralph Baer, we wouldn't know video games.
Not to forget the internet's massive contribution in revolutionizing the world of video games and forever changing the culture of esports. With the advent of online gaming consoles, hundreds of thousands of players around the world are playing and communicating like never before, despite their different geographical locations and cultural backgrounds.
The most famous games of that period, Sonic the Hedgehog and Street Fighter with its upgraded version, achieved widespread popularity and were among the most played games of the '90s. Sonic was Sega's brainchild brought to life in 1991, characterized by its high speed, to compete with our beloved Italian plumber – Mario. The game was instantly popular and gained international recognition with a movie released in 2020 too!
Another major milestone of this era was the release of PlayStation, a device that replaced all previous gaming technologies. PlayStation came with many amazing features that gained the confidence of gamers and removed many competitors from the arena. Discs with expanded memory, allowing music lovers to put CDs of their favorite songs and many such cool features. PlayStation also introduced players to a modern-day gaming console.
Esports from 2000 – present day
It's quite difficult to summarize this era within a few lines, but the most important thing that distinguished it was the creation of our mega-star YouTube in 2005. Grabbing the attention of gamers worldwide and providing them with an apt platform that they've waited decades for, players raced to create their own broadcast channels on YouTube, allowing fans to interact with them directly.
YouTube gained in popularity and the number of views and subscriptions for game channels reached millions. YouTube succeeded in being a leading platform for educational and entertainment content for esports. Gaming giants like Fortnite and FIFA created their own YouTube channels.
Entering the arena was Twitch in 2011, to compete with YouTube as a video broadcasting platform specializing in video games. The platform received nearly 15 million daily active users to view the content provided, equivalent to the total population of New York and Chicago combined! The platform also broke a record by hosting 436,000 viewers for a live broadcast of Bungie's and Activision's Destiny 2 premier.
The esports industry evolved massively in this period, using advanced technologies such as first-player perspective, third-player perspective, and fixed 3D graphics.
Famous games such as FIFA, Fortnite, PUBG, and Call of Duty have brought a lot to the esports scene, all of which we're witnessing nowadays. Many world championships for the most popular games are being held at Kafu Games, and many players in KSA have made esports their primary source of income. As for the investments, they are estimated at billions of dollars from giant sponsors.
---
These are quick glimpses from the history of esports across the most important historical periods! The evolution of video games won't stop here as industry leaders are promising us incredible technologies.
Hey you! Ever thought of better investing your marvelous gaming skills? How about using it to support a good cause? With #GameForGood, you'll do that & more!
Get your sleeves up & start playing in #GameForGood Tournaments, & Play As You Go. Let's make the world a better place together 🌍💚