Compete in Multiplayer Tournaments of Your Favorite Esports in Saudi Arabia
Meet and Play Against Other Video Game Players
Earn Your Rank and Win Exceptional Rewards
Futuristic Gaming Gear Enhancing Your Gaming Experience
Corporate Esports Tournaments

Invite Friends and Win Rewards. Join KAFU today
PROFILE
Manage all features on your profile, add a game ID or proudly showcase your best gaming achievements & performances.
AVATARS
Design and equip your unique avatar for free, or buy coins and get a variety of new ones.
TOURNAMENTS
Experience epic Esports tournaments at Kafu, run by the biggest organizers in the gaming world.
PLAYERS
Players of all skill levels are welcome to challenge, compete and win in our tournaments.
Organized by SAFEIS, Powered by KAFU Games
+ 10,000,000 SAR
Total Cash Prizes Awarded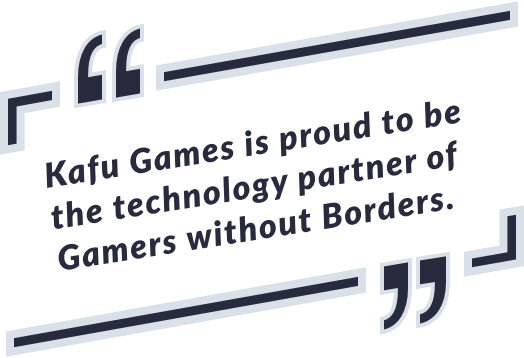 GAME FOR A GOOD CAUSE
Gamers Without Borders is uniting and connecting the gaming world in the battle against Covid-19. Everyone can support the cause.
In addition to the elite winning teams donating $10 million to charities and organizations leading the fight against the global pandemic, anyone who games, watches, or learns can contribute by donating to the organizations at any time.
Join thousands of others and play your vital part in the battle against Covid-19 by donating to your charity of choice today!